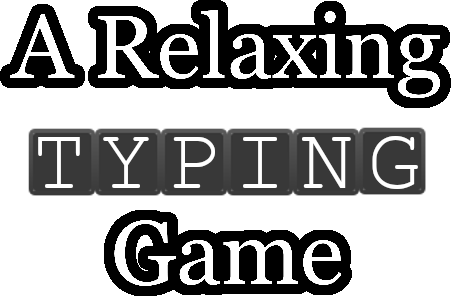 A Relaxing Typing Game
I'm no longer working on this game so it won't be receiving any more updates. I'm aware some people have some issues with the web version of the game, so I'd recommend the desktop build if you are having trouble.
If you do like it then you may consider having a look at a meme version of this game I made, Type the Entire of Ulysses. That's it. That's the Game. Each passage in this version is a chapter of James Joyce's Ulysses.
Controls
Mostly point and click controls (and typing), but there's a few key combinations for specific things:
Ctrl + P - Pause
Tab - show/hide stats (in game
Ctrl + F - Full screen (desktop only)
Ctrl + S - Skip current music track
About
"A Relaxing Typing Game" is a chill typing game for people who like typing for the sake of typing.
Drawing from public domain stories and poetry such as Edgar Allan Poe, Edward Lear and William Shakespeare, this game allows you to type out classic literature and keep track of your WPM, accuracy and mistakes.
I "finally finished" this for Finally Finish Something Jam. It's been hanging on in a near-finished state for a long time because it was taking too long and 95% of the game was UI programming (which nearly everybody hates, including me).
Consequently I haven't really done as much to this game as I planned - I was going to add more literature and things in the shop like UI packs. If you like it, let me know and I might update it a little in future.
(P.S. I'm trying to sort out a Linux build but my VM doesn't have enough space on it and I am having a hard time allocating more space to it because I don't know how computers work)
Credits
Backgrounds - Ansimuz
Graphics - kenney
One pixel font - Gooseninja
Music - DOS-88
APPX Script - Tommy van Son
Some of the backgrounds are licenced under CC 3.0: https://creativecommons.org/licenses/by/3.0/
Music is licenced under CC 4.0: https://creativecommons.org/licenses/by/4.0/
Links to resources used
Pixel art backgrounds:
UI Graphics (and bonus sounds):
One Pixel Font:
Music:
Public domain literature sources:
Tommy for all your APPX programming needs:
The paper background I used on this page:
Download
Click download now to get access to the following files:
Typing Game Win.zip
18 MB
typing game Linux.zip
19 MB
Comments
Log in with itch.io to leave a comment.
Nice game, it was very fun and relaxing to play!
I randomly made an account to look at games and this was my first game that I played on the website.It's so fun omg thank you for making this
Oh wow what an honour 😃great to hear you enjoyed! Itch is full of cool and weird indie games.
How did you find this game if you don't mind me asking?
I went to my feed page and as I was scrolling your game was the first that caught my eye so I clicked on it and I'm glad to say I wasn't disappointed😄
Fun game with neat art and music. Great job!
Im from Germany and I really love this little game because i can learn to type fast in English! :)
But I found a bug in the poem "Sonnet LXXIII". In the poem itself theres a problem with a word as you can see in the picture. Usually you would just type but I have tried everything on my whole entire keyboard but nothing worked. :(
(i used the web version)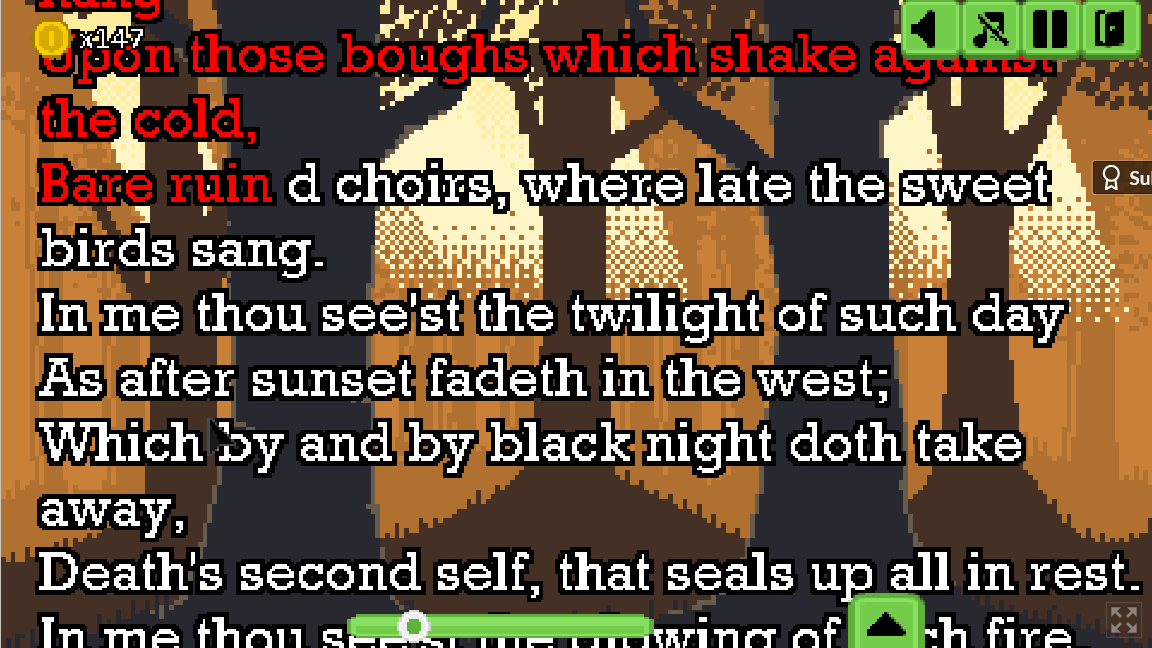 Hey that's cool, I'm from England and I'm learning German :) I find the old poetry quite hard to type quickly, lots of uncommon words!

I'm sorry about the bug, I've posted a fix so you should be able to do it now. The website I got the poems on had some weird characters where there should be apostrophes and I had to manually remove them. I somehow missed this poem 😬
I like this game! It's a cute and relaxing time.
I have found a slight bug (playing the web embedded version). I wanted to quit a poem and so I hit the pause button and then realized I should have hit the door button to exit, so I clicked that button. The PAUSE text didn't go away and now I can't click anything.
Not a huge deal or anything but I know as a developer I would like to hear of any problems that are in my games as well.
Great work :)
Thanks for taking the time to comment, good to hear you liked it!
I checked out the pause bug and you can still exit the level, so you're not totally stuck. But yeah, that shouldn't happen, I'll get it fixed soon!